What our customers say
Like a whole new calm dog!
I was referred to Absolutely Stirling by a friend and Peter and Lorina exceeded my expectations! My anxious ridgeback is like a whole new calm dog! I have been able to leave him alone in situations that I would never have been able to before and he is quietly content and relaxed. I am so excited to be carrying his training back into my home and he has been doing extremely well. I've learned a lot as well and I never imagined that 4 weeks would bring about such a positive amazing change! Thanks to both of you!
The magic happened!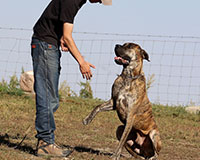 Vault was predictably bad. A violent, aggressive, scary incident was no longer uncommon in our daily lives. A dog that weighs 170lbs, understandably has limited options. A muzzle was mandatory and he was rightfully feared by most. The reality of the aggressive dog that we unknowingly helped create was a huge burden and brought an immense amount of stress and sadness to our lives. His days were numbered and our hearts were broken. When we heard about Absolutely Stirling we contacted them immediately. We were skeptical, but believed that if there was even a small chance that someone could help, we were more than willing to give Vault the help that he needed. Vault was in. We were optimistic but unsure how such a 'bad dog' could be reformed. We had tried group training and one on one training (that lasted 5 mins) with no success.
The Magic Happened! Peter sent us updates throughout the month long process and continued to give us good news. The best and most astonishing day was when photos were posted of Vault playing ball with dogs of all sizes. He looked happy, relaxed, fun and well behaved. How was it possible that he had changed completely? It was time for Vault to come home. Our dog is fabulous. We can confidently report that it's not only Vault that is happy, relaxed, fun and well behaved. We are now able to walk him without a muzzle, with a loose leash and without incident. He listens, he sits, and he's respectful of us, other people and other pets. He is such a sweet dog and brings us so much happiness, joy and laughter.Peter, Lorina and Family; Thank you from the bottom on our hearts! The work you do and love you have for animals is amazing. Vault is absolutely the great dog that you assured and showed us he was.
Beyond our wildest expectations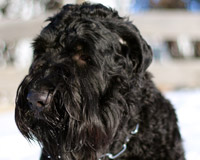 Nelson our Black Russian Terrier recently attended Absolutely Stirling Dog Training. Two weeks after getting him back we can honestly say he has changed beyond our wildest expectations, its like he just totally gets it. He had become a very anxious dog, he used to fixate and demonstrated aggressive behavior toward dogs, children and adults.
He now behaves impeccably, he's very disciplined, and has been anxiety free since his return, a really happy eager to please puppy. Thank you Peter and Lorina for all your help and ongoing support. Oh i forgot to say, we took Nelson finally to pet smart today. He was great, we were all relaxed and there were dogs everywhere and he did as he was told, sat, down etc. There were dogs just passing him by and he never flinched, he looked but just brief glances. He was approached and offered treats which I allowed and he was a star performer, we are really pleased.
ASDT is an incredible place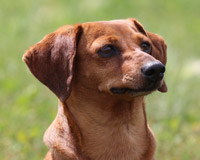 We wanted to thank you so much for the work and love you put in with Piper, even on the drive home it felt like a bringing home a new puppy for the first time. Feeding the first time since being home was much better than we could have ever dreamed. Thank you so much and I can vouch indefinitely the ASDT is an incredible place not only to train your dog but to train the owners. Thank you thank you thank you.
Thank you so very much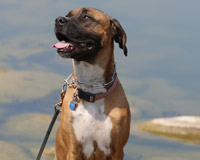 Thank you so much for making our Justice a better dog. And helping us, we are very grateful to you both. You are wonderful at what you do. Cant wait to see what the future holds. Had it not been for you I am not sure what would have happened to Justice. Again thank you so very much.
You work magic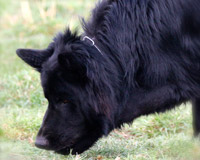 Wilder's obedience skills are outstanding and it has been so relaxing taking him for walks. He used to pull constantly and was always anxious in public. He did not listen well with distractions around him and we were always stressed out after a walk. We are so thankful for your hard work and so happy that we got the chance to send Wilder to you! He came back in the best shape of his life and his manners around the house have improved too. Wilder thanks you too and is much happier now that we have a better understanding of our relationship with him. Don't hesitate any longer to call Peter and Lorina if you need any sort of help with your dog, absolutely amazing!!!!
You are miracle workers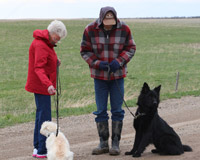 Darbie and I just had our first real walk around the canyon WOW was that nice. He was a little stubborn at first but after half a block he feel into the routine, loose leash, sat when we stopped, (with a few reminders) and even laid down at the end of our walk. You two are miracle workers, you don't know how much we appreciate your work with my guy thank you so much, such a change, such a joy to walk. Walked with my friend and her two shelties and they were in such harmony, all heeling and sitting, before Darbie had them in in such an excited state. Now all is calm and excellent. Thank you Absolutely Stirling Dog Training, thank you. You are miracle workers.
Thank you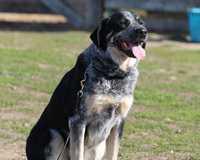 Today Cruise & I had our first "outing". I took him to the off leash dog park to let him run awhile. We did a bit of obedience initially because he was pretty distracted. What a good boy he was! He came back to me numerous times & when I put him back on the leash around a huge crowd of dogs, he was excellent. That turned out perfect since two dogs got into a major fight & Cruise just sat with me.
I highly recommend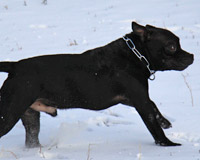 I highly recommend Peter and Lorina at Absolutely Stirling Dog Training (ASDT). They had our Staffordshire Bull-Terrier Neo for 3 weeks. Both prior to leaving and after picking Neo up, Peter and Lorina were a wealth of information on dog training and dog related issues. They make themselves available to answer all questions you might have in relation to your dog and the training process.
After his time at ASDT, Neo is well behaved on-lead. He does not pull, and the commands of heal, sit, here and lay down, are obeyed consistently. In addition, the structured on-lead obedience has laid the foundation to, through time, build obedience to these commands off-lead. The ability to recall my dog off-lead, being my main objective in obedience training. To sum, Neo is more obedient around the house after his training at ASDT. His obedience on-lead to the commands he was taught at ASDT is impeccable and these commands provide a strong foundation with which to continue his obedience training. I highly recommend the services of Peter and Lorina at ASDT.
Keesha has been excellent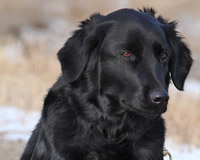 Thanks again for allowing us the special privilege of the personal "Keesha drop off". We enjoyed our visit and even the kids were so surprised how much they learned from all of you. I also loved that it was a family affair on both parts. :) Keesha has been excellent - all four of us are able use all the commands and she is very agreeable no matter who is handling her. Jaela, particularly, is the task master in ensuring that everyone does all the right things with her. She took what you said very seriously. Today on our outing I walked by some city workers ripping up our street and Keesha not only sat and was good but then she laid down while I talked with one of the guys for a few minutes. Even when one of the guys walked very close to me to chat she was great - WOW!!
Thanks again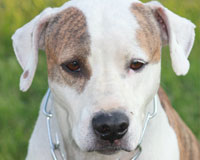 Thanks so much Peter and Lorena for working with Simba! We are so happy to have him home and he is being very obedient. He hasn't even tried to get up on the couch! Ha! We are having a beautiful moment just hanging out and sitting in the park! This used to be so frustrating since Simba was always so neurotic and had to make a scene whenever anyone or any dog went by. Now we are comfortable and can relax! Thanks guys!! Looking forward to working with him everyday to make sure he doesn't forget everything you have taught him while out on walks and engaging with other dogs. We will update you in a couple days! Thanks again!!
I would recommend them to anyone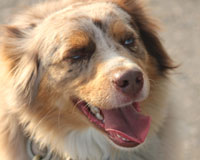 I sent my two year old Miniature Australian Shepherd, Bakon to Peter, and Lorina for behaviour modification. Bakon was very anxious, and scared of everything. This problem had progressed to the point where Bakon had become biting out of fear. Prior to Peter, and Lorina, I had worked with 3 dog trainers without luck. I was at the point where I no longer knew what to do with Bakon. Peter, and Lorina changed my life! They were able to teach Bakon that the world is not such a scary place and that he could actually avoid instead of bite. Bakon continues to progress daily. I am very proud of him! In addition, I really appreciate Peter, and Lorina's continued support with all of my questions. I would recommend Absolutely Stirling Dog Training to anyone. Thanks Peter, and Lorina!!
Thank you, thank you, thank you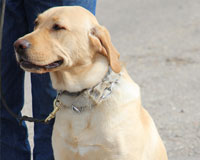 We are so impressed with Hudson! I cannot believe how well behaved he is. Taking him for walks are a pleasure not a fight. His manners are incredible! He's a dream to have around. Thank you, thank you, thank you! I don't think we could say that enough times.
Thank you soooo much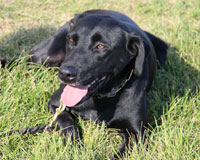 Thank you so much Peter and Lorina, you have helped Molly become the dog I have always wanted! We are just shy of a week having her home and she is doing amazing. Not only has she learnt so much but I have too, I feel like we all are finding our places in the family and life isn't so crazy anymore! Thank you soooo much! What you guys do there really is special.
Highly recommended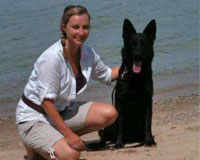 I highly recommend Peter and Lorina. I have now bought three dogs from them. They have always been honest and fair. All three dogs have been bought sight unseen and each dog was exactly as Peter described. All were in excellent condition and as promised. I have been more than happy each time and look forward to future business with the Luhoff's.
With much appreciation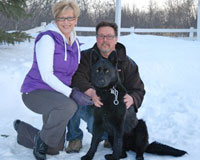 After much consideration and several conversations with Peter, my husband and I decided to purchase an 8 mo. old black german shepherd from Absolutely Stirling Dog Training. Our desire was to have an obedient, protection dog that my husband could take to work and yet was a great family pet at home as well. Our new puppy Xandra has only been in our home for one week so far, but has bonded very well to both of us. She has gone to work with my husband each day and is confident in her new surroundings. She has already displayed her protective nature and we are SO pleased. We were delighted to meet both Peter and Lorina in person and are thankful for their willingness to keep in touch and answer any questions that may arise along the way. Thank you for all your time and effort on our behalf. We appreciate it so much.
Well worth the money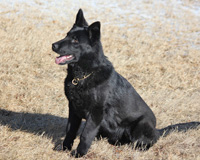 I just wanted to say how thankful I am to Peter and Lorina. We bought a dog from them in the summer. She has been a fantastic addition to our family (and what we always wanted, a beautiful black german shephard) I love that they give dog training support and advice too as we are new at this. She is so well behaved now and we learned a lot too. Well worth the money to have a well behaved dog. It was better than having our own episode of dog whisperer. They know dogs. THANKS so much guys.
Thank you for this beautiful boy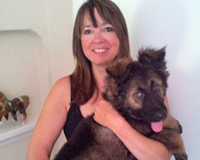 As promised here are some pics of Woodrow and I, he is doing really well thank you for this beautiful boy, he is already sitting and staying. Looking to start puppy classes with him hopefully find something after I have his second shots done. I've attached a picture of Woodrow and I.
We heartily recommend Peter to anyone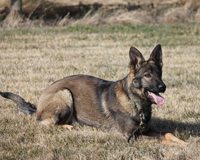 We sent our 7-month-old German Shepherd pup, Timber, to Peter in order to get some help with obedience training and to be better socialized with other dogs. Prior to us dropping off Timber, Peter was very helpful and willing to talk us through any concerns we had on the phone. When we arrived at Peter's place, Peter introduced our dog, Timber, to some of his other dogs right away. It put us at ease to see that our dog was going to do just fine. Then Peter sat down with us and gave us the time we needed to talk over any concerns that we may have had.
During the month that our dog, Timber, was there, we phoned Peter once a week just to get an update. These phone calls were great. They helped us stay in touch and hear the progress that Timber was making. When we finally picked Timber up at the end of his training, Peter demonstrated the things that Timber had learned and then coached us through it. It was amazing. Timber was even more well mannered than before. He responded to his sit, lay, heel, and here (come) commands like a pro. It was well worth it for us to have sent our dog to Peter. We heartily recommend Peter to anyone who is looking for a trainer for their dog.
She is a wonderful dog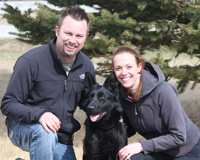 It was lovely visiting with you both! We had a great car ride home - Sony was perfect in the crate, not a sound and very relaxed ... and when we stopped for a break to let her pee she was perfect. We took her for a big walk when we got home and did some obedience with wieners while out on the walk. She was great. Her heel and sit was really good .. but she was a little more resistant with the down! We'll keep working on it and I'm sure as she gets to know us, and with practice, we will improve! She has been wonderful with our little dogs ... which is sweet! Even the Chihuahua snuggled up with her in the living room last night while we were hanging out! We took her to see the new house ... and we took her for a big run this morning and she was great to run with on the lead. We also did some recall in the backyard and she was really good and willing! She is a wonderful dog and we couldn't be happier!
Thank you again for everything! And we will keep in touch for sure!
Peter has the magic touch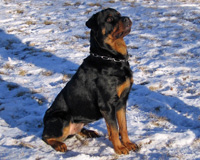 With the guidelines Peter has enlisted in his training program, it makes it easy for the dogs to succeed, and makes it difficult for them to fail. The basic common sense approach with their training program will work amazing for both you and your dog. Thank you very much.
They are amazing with dogs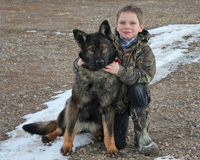 In the last 8 years I have bought several dogs from Peter and Lorina, and have also had a number of dogs trained by them. I have found them to be honest, hard working, with very high integrity. They are amazing with dogs, and have a practical common sense approach.
Thanks for such a wonderful dog
We have known Peter and Lorina for over 20 years. When we decided we needed a German Shepherd for protection and companionship, we knew where to go. They have provided us with the perfect female, Rookie. Thanks for giving us such a wonderful dog.
Never had better service anywhere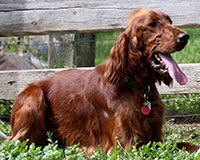 Absolutely Stirling Dog Training center has done the most amazing job with our 2 dogs. Mr. Diesel is a large 3 year old and 130 lbs bull mastiff, while Ms. Sarah is a naughty 1 year old Irish Setter always active and with a mind of her own. The two dogs were brought in to ASDT with different issues. Diesel was very insecure and while he was great at the dog park, on leash and at the house he became protective. Although socialized and great with friends and kids and other animals, his occasional aggressiveness would show (and one never knew when to expect it). Walking him was never a pleasure as he occasionally launched at people and other dogs on the street. So we stopped this activity with him altogether. Sarah on the other hand as small as she is compared to Diesel, she also was no pleasure as she was pulling constantly and never listened.
The dogs were at ASDT for 6 weeks while we were on vacation and when I picked them up, I could not believe that they were the same dogs I dropped off. My heart melted when I saw how obedient and attentive they were to Peter and Lorina. As a matter of fact, I was a bit skeptical in the beginning and at drop off I said "good luck" to Peter knowing fully that he would have a challenge with the two. Well, I was wrong to be a non-believer. These two dogs are amazing now. We walk everywhere and I am in full control of the big boy at all times and Sarah is so well trained that she knows what to do without commands. What a pleasure. Thank you ASTD and Peter and Lorina. I have never had better service anywhere. Peter followed up with us at our home in Calgary to make sure that we have a handle on Diesel. Now that is great service. My daughter and I are happy pet owners now and much more relaxed to take these dogs anywhere.
She is a completely new dog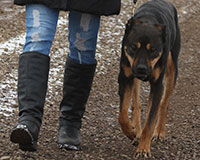 My boyfriend brought his 7 year old Rottweiler mix dog here. Before she was a very dog aggressive, huge separation anxiety, and basically listened to nothing and no one. Going anywhere with her was stressful and she kept everyone, well at least me, in quite a nervous wreck. She would whine all morning and bark and whine if she was put outside of the house for longer then one minute. She would constantly shake with anxiety and her eyes would show how unrelaxed and uncomfortable she was was with stress.
After just four weeks at ASDT, she was calm, relaxed and is now tolerating other dogs. She listens to us and is now a pleasure to walk. Her eyes look kind and calm, and there is no more shaking. She is a completely new dog and I now enjoy being with her and now also have the tools to get her to listen and behave. Peter and his wife were just phenomenal with her and taught us so much about how to handle her and now life is relaxed and enjoyable at home. I don't know how to say thank you from the bottom of my heart for giving this dog and us the opportunity to live harmoniously together. I recommend anyone with big or small issues with their dog to not hesitate to come here.
Life has changed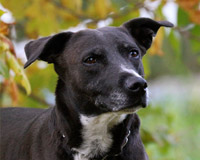 It has been just over a month with having Keiko home after your training and life has CHANGED! It has been a lot of hard work, but we now have a much happier and balanced dog because of the training that you have given us. Both of our dogs have benefited from the modifications that we have made in our lives and the new boundaries that we have set. Thank you for all of the hard work that you have done and will continue to do. Their dog beds are much loved and used more than ever. Consistency is key, and perfection is not an option, but we're improving. Thank you again for everything.
I would recommend them to everyone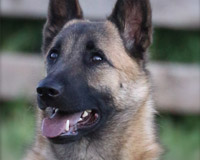 I brought my one year old Husky/German Shepherd/Akita cross Winry to Peter and Lorina under dire circumstances, she is such a changed dog already! She was completely unruly in so many areas, and I was at my wits end with her and didn't know what else I could do. For a dog that should be huge, she is only classified a medium dog, but her attitude I swear belongs to a massive 100lb dog! It wasn't a surprise to me when they mentioned she was their hardest yet to get under control, she just has SO much energy I swear she never gets tired haha.
But after those 3 weeks, she listens better, almost a dream on a leash and her obsessive and aggressive barking is way under control! Because of her personality, I know that it will be quite awhile for me working with her back at home to get her to where I need her to be, but I am so thankful to Peter and Lorina for helping me make that first step. She is amazing and she continues to push me but now I know how to control it and take charge! I would recommend them to everyone!
Worth every penny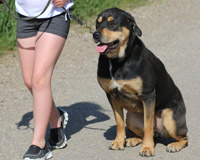 Peter and Lorina are worth every penny!!! They transformed my dog Zoey into a brand new dog! We are still working on skills everyday at home but so far we have been able to take Zoey everywhere, Life changing! It is awful to have a bad mannered dog it really interrupts the flow the the family. Thank you so much absolutely Stirling Dog Training :)
Thank you so much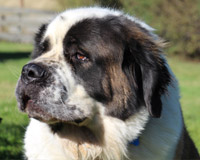 Peter and Lorina are amazing people. They took Mak aka Big Mak our 160 lb St Bernard and made him an absolute joy to be around. His obedience skills are razor sharp and he is listening so well. He was hand shy of people and Peter and Lorina have cured him of aggression towards humans. They even let his giant drooly self sleep in the house.)
They had Mak for 7 weeks when we had our baby and picked him up in Calgary then even delivered him home 12 hours round trip so we wouldn't have to travel with our new born. He went back just for a boarding visit while we were out of the country and Peter and Lorina sharpened up his obedience skills and didn't even charge us for it. I honestly can't find words to express how grateful we are. Thank you so much. The Last Family.
Thanks very much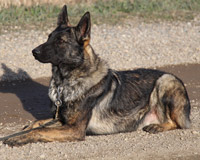 We wanted to let you know how fantastic of a dog Bruce is and how well he fit into our family! We get compliments all the time how well behaved he is and what a generally nice looking dog he is! Thanks very much!
You guys are the best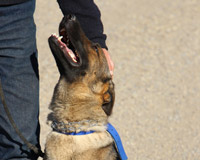 Wow!!! Thank you thank you thank you Peter and Lorina. You have done an amazing job with our girl Inka. Words cannot express how grateful we are to have our dog back. And so obedient. She's doing extremely well. You guys are the best. Please ... Anyone reading this review don't think for another second and bring your dogs to Peter and Lorina. They are AMAZING!!! Thank you guys!
Absolutely amazing!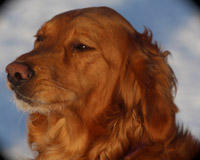 I can tell all the hard work and dedication that was put into my 3 year old Golden Retriever, he is an absolute dream on leash now and the true test was proven a success when I was walking him around our lake at night and a rabbit surfaced 5 feet away from us ... normally he would of been gone in 1 second with his new training he remained by my side and in complete control! Thank thank so very much :) You came highly recommended and I can now see exactly why! Good Job :)
Thanks for making my dog a joy again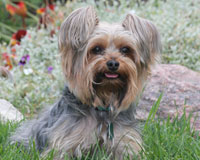 Thanks so much to Peter and Lorina for making my dog a joy again. My dog is only 5 pounds but had the attitude of a 100 pound pitbull. Peter and Lorina taught her the obedience she needed to able to be around other dogs and out enjoying the world again. I would recommend anyone with issues no matter how small check out Absolutely Stirling Dog Training, you won't be sorry!
We can't thank you enough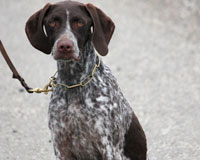 Thank you for all your help with Thomas. You have changed our lives for the better. Thomas' anxiety is gone, he is able to relax and play like any other puppy now. He goes into his crate and happily lays down for a nap. Gone are the days of Thomas crying so loud the neighbors hear him inside their houses. He has improved so much with his crate there is no barking to get out even when we come home. We tried a blanket in his crate and it is still intact after two days lol!
He is listening much better and we are practicing constantly with mini training sessions thru out the day. We all enjoy our daily walks more as he no longer constantly pulls us around. We can't get over the fact that he can now relax and not be the centre of attention. He seems so much calmer and happier, Thank you so much! We would recommend you to anyone with a dog, you are so kind, helpful, respectful and understanding. We can't thank you enough for helping Thomas have a better life and us as a family a less stressful one.
Update: You guys are truly amazing. You have helped so many people understand and help their dogs have a great life. This story and your visits to continue supporting and helping families like ours shows what amazing people you truly are. Thomas and are are so thankful we meet you. You have changed our lives for the best. Everyone can not believe the difference in Thomas.Thank you!
I highly recommend them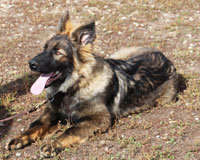 Peter and Lorina of Absolutely Stirling Dog Training are fabulous at what they do. After much searching, we decided to purchase a puppy from them. We arranged the purchase when he was 3 months old, but were unable to bring him home until a later date. During his stay at Peter and Lorina's, they kept us updated on his progress via email and pictures. I'm not sure how they find time for picture taking with all the daily duties and necessary training going on, but it is a nice bonus when possible.
When we went to pick up our new puppy, all the dogs at their place were very quiet and well-mannered; I never would have guessed how many were there. We were shown our puppy's good obedience and how to best handle him (including advice after we brought him home). He was 5+ months old when he joined us, and he fit in beautifully to our family right away. He has a great temperament, and came to us very well mannered with people (including small children), cats and other dogs, and well started on his obedience. I highly recommend Absolutely Stirling Dog Training.
Over the moon with happiness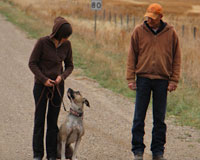 I took Kona out for a walk and play this morning in the public park/field behind our house with training sprinkled throughout. She was amazing on the leash and heeled perfectly. She was a little stubborn about sitting at first but I did exactly what you showed me and she responded really well. The most amazing thing was once she was off leash in the field. I usually keep an eye for other dogs but all of a sudden, one appeared behind us. This dog was giving off some serious frightened and aggressive signals, but Kona was already saying hello so I just took and deep breath and decided to see what would happen. Kona, tail wagging, gave the dog a sniff then tried to entice it to play, giving a push with her neck. The dog snapped ferociously, practically touching her muzzle, then shoved itself against her to sniff her back. She barely lifted an eyebrow! She tried to get the dog to play again but it took off full tilt across the field to its owner. Kona took off after it in hot pursuit, thinking it was time to chase and play. All it took was, "Kona, come here!" And she literally turned on the spot to race back to me!! I was thrilled!! We had a great rest of our walk, and then I took our other dog out after, using lots of the techniques you showed us. They worked really well with him! It was neat to try things out with him and see what needed to be tweaked slightly for his (totally different) temperament.
They did so well separately that I decided to take the plunge and take them out together by myself, which I have never done on leash before. The moment we stepped out of the door, a dog walked by our house. I had both dogs under my control and sitting within five seconds. They both stayed sitting to watch the dog go by, and the woman was so impressed that I saw her later watching the three of us for quite some time as we trained and played in the field. I can't believe how well they both heeled on leash, side by side, as I've never even attempted it before!
It's only been one day and I can't express to you the weight that is already off my shoulders. I love both my dogs so much and I spent countless hours worrying about Kona, stressing on walks, feeling overwhelmed and like I could never handle them without Levi around. The tips you both gave me yesterday have really helped me to become a better dog owner. My attitude is so much more effective with Kona, and it's made me excited for, instead of dreading, the challenge of daily training. She's different, and I am too - and she's recognizing it in me. We're both learning that I deserve her respect. I'm truly over the moon with happiness, and can't wait to get out with her again tomorrow!!
Thank you for all your excellent work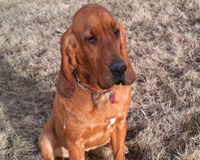 Did work with Dekota yesterday AWESOME she did very well Pouted a bit and tested how much she could actually get away with lololol oops she did not have much luck with that. So after a few more minutes of pouting I guess she decided that she might as well just do what she was suppose to do.
Definitely tested me on the recall without a leash when she was father away but actually did figure that you must have whistled when you did that. I cannot whistle if my life depended on it!!! but I do have a whistle in the house tried it, worked like a charm. So Thank you for all your excellent work with Dekota, will be sending you Marlo as soon as we can.
Peter and Lorina changed our life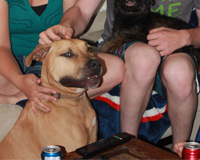 It's hard to describe how Peter and Lorina changed our life. We adopted Rock, a pit bull rescue, 2 years ago. He was one year old at the time and had been sold on the street in Red Deer by a guy who said he needed cash. Although Rock was a big lover with his "inner circle" he was insecure and cautious around newcomers. When uncomfortable, Rock's go-to behaviour was a horrible, high pitched cooing, vibrating and, occasionally, mouthing (not to be confused with actual biting) if the person decided to try and pet him at the peak of his freak out. Life became a stressful game of will he like them or will he have a meltdown and we began to shelter him from the outside world out of fear that people would label him aggressive.
After working one-on-one with a trainer in our home for months and consulting a variety of professionals, we realized that bigger measures were needed to give our precious boy a chance at learning the world isn't such a bad place. An internet search led us to Absolutely Stirling and after extensive googling trying to see if there were any negative reviews (which there weren't) we reached out with an e-mail. Not long after, Peter called us and right off the bat we liked what he had to say so when he told us he would be in Calgary and could stop by to see the issues firsthand we jumped at the opportunity.
While at our house the problems were evident and he said he thought he could definitely help. We made arrangements within days and then Rock spent the next 6 weeks with Peter, Lorina and their family. Over the course of his stay, Rock had to learn how to integrate into the Luhoff household and pack, he attended a variety of social gatherings and went on a road trip to the Okanagan to meet people at every gas station along they way. He had experiences and guidance we never would have been able to provide on our own and it proved invaluable beyond words. Peter and Lorina have even made themselves available for follow up questions and they check in occasionally to catch up and hear about our progress. Rock is now polite on leash, has great recall and has calmed down substantially. He has an exuberant love of meeting new people (and dogs!) and we take him everywhere with confidence.
You go above and beyond to say the least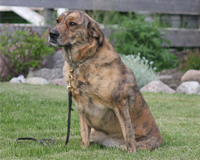 Thank you for all of the time, dedication and hard work you put into Sophie! Walks have become a pleasure, she's much more respectful and all around seems to be happier. We, too, are dedicated to not only maintaining the skills you taught her but further ingraining them as well. This is definitely a learning exercise for all of us so your continued guidance has been much appreciated. You go above and beyond to say the least!!!!
We can't wait to see Rock's progress and reunite our pack in the coming weeks.
Really outstanding, highly recommended
I brought home my 4 year old German Shepherd Penny 9 months ago. Although I had read some books on dog training & tried an obedience class in Calgary I was losing hope that we would reach a point where we were comfortable enough to enjoy our walks and even go to the dog park. Penny had issues (& so did I). She scratches to self soothe but when I first got her I thought it was dirt (gave her a bath), the Vet confirmed no parasites but suggested allergies (& expensive food) It was just anxiety, Penny is a nervous dog who needs lots of exercise to stay calm. I couldn't let her off leash and sadly I am not much of an athlete. I could tell she was desperate to run & play with other dogs but she was aggressive toward them & had no obedience training, nothing I said or did had any effect. She had some good qualities too so I didn't want to give up on her.
I was looking for a facility that would board Penny while I went on holiday. There was one kennel that offered a pen for her to live in by herself and a 1 hour walk daily. I really hoped there would be something better for her. I am glad I kept looking because I found Absolutely Stirling Dog Training, Peter talked to me by phone & asked me about our routine, our walks, what my expectations were, what was on my wish list. he then explained a bit about their training techniques and where Penny would be living & what the daily program would be like. I agreed to keep Penny there for 1 month.
Penny became socialized, got loads of exercise, learned to run with the pack, had play time with the pack, was socialized in Peter & Lorina's house & received obedience training. When I got her back she was calm, controllable and best of all she wasn't scratching & I could take her to the dog park. She's not perfect but she is worlds apart from the stressed out frustrated dog that I delivered to the Luhoffs. Peter worked a bit of a miracle for Penny, no other trainer I spoke to would give her the chance to socialize with their animals. I am so pleased with the outcome. Although I may not keep Penny myself I feel really good that Penny's prospects for a great forever home are greatly increased now that she is a happier well adjusted dog. In addition, the cost per day of training was only a few dollars more than the people who were only offering a 1 hour walk each day and about on par for boarding in the city. Thank you Peter & Lorina. Really outstanding. Highly recommended.
We cannot thank you enough
Just a quick note saying that Tucker is doing very well. We cannot thank you enough for all your help with him. He still has his moments once in awhile when around other dogs, but is way better. He is a much better behaved member of the family.